What's New In Subamplify - July 2022
---
Introduction
Subamplify is constantly evolving and growing, and in July 2022 we've added some awesome new features. Let's get right into it!
Automatic Tax Calcuation
Depending on what products you sell online, ecommerce stores need to collect taxes from their customers. If you are based in the US, tax collection can get complicated. Most of the 50 states require you to collect taxes if you hold nexus (which means you have inventory) in that state. Then on top of this, if you reach a certain revenue threshold in a certain state, you pay taxes as well. But what if you hold stock in multiple states? Also, tax rates in each state change all the time. It gets messy quickly!
In Australia, the tax rate is a flat rate of 10%. Also in Australia tax is shown as inclusive of the product price, rather than in addition to the product price. In other countries like Canada, tax rates also change depending on which province or region you are based in too!
We know firsthand how hard this can get to work out taxes, as we've run our own ecommerce store. So we've now added the ability to automatically calculate taxes on the checkout page, without you having to worry about a thing!
Now, whenever a sale is made through your checkout page we automatically calculate the tax owed. Then we make it super easy for you to collect and pay taxes so that you can focus on running your business.

Connect With Any Other Application Out There
One of the common requests we get is the ability to connect Subamplify to this app or this app, as many different stores use lots of different apps.
For example, in terms of email marketing, there is a whole range of apps including Mailchimp, Drip, Klaviyo, Active Campaign, AWeber, GetResponse, FloDesk, and many more!
So to allow us to connect Subamplify to any application, we now integrate with a tool called Zapier. What is Zapier you may ask? Zapier is an online tool that connects multiple apps. It connects to over 4,000 apps!
By integrating with Zapier, you are now able to connect Subamplify to any of these 4,000 apps!
Note that you will need a Zapier subscription as well. However, they do have a free plan! For more information, please visit their official site.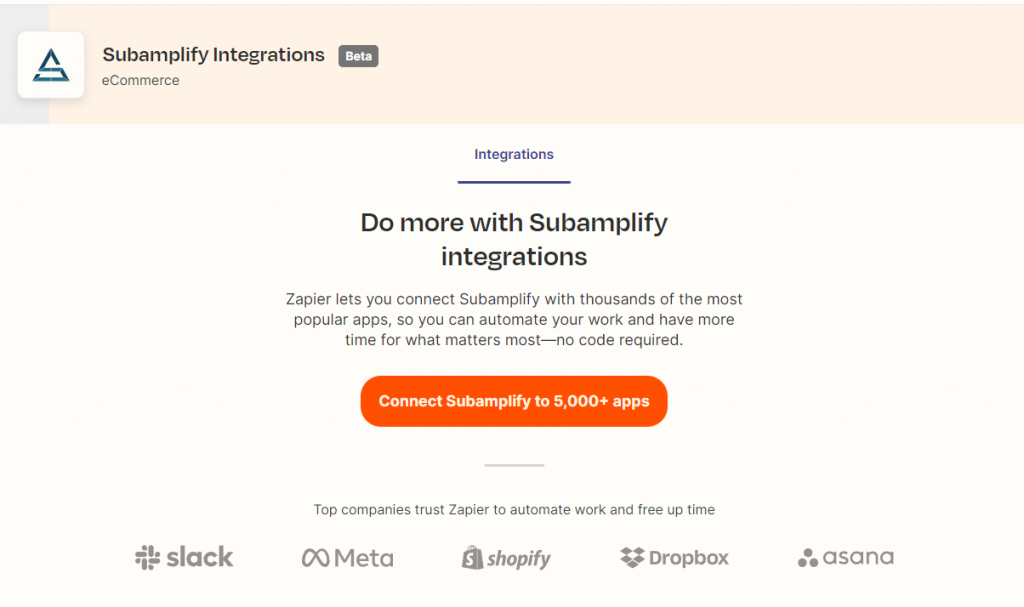 That wraps up the new features that have been released on Subamplify in July 2022.
So, in summary, Subamplify now integrates with Zapier, which means that you can connect it to over 4,000 other apps. This makes it easy to connect Subamplify with any of your other favorite applications. Additionally, tax collection can be complicated in the US, but Subamplify now makes it easy to automatically calculate taxes on your checkout page.