How to Start a Subscription Box

---
Introduction
According to the latest research, the subscription box market is expected to reach US$65 billion by 2027. This is a massive opportunity for both existing and aspiring entrepreneurs to tap into this market.
In the following article, you're going to learn in-depth how to start a subscription box business. Everything written and shared comes from our own experience of building a 7 figure subscription box called Crochet Surprise.
Why Start a Subscription Box Business?
The effect of COVID-19 on ecommerce
In December 2019, COVID-19 completely changed the world, especially in the ecommerce industry.
Statistics show that the COVID pandemic added $219 billion to US online sales in 2020-2021! That's a phenomenal increase and it makes sense.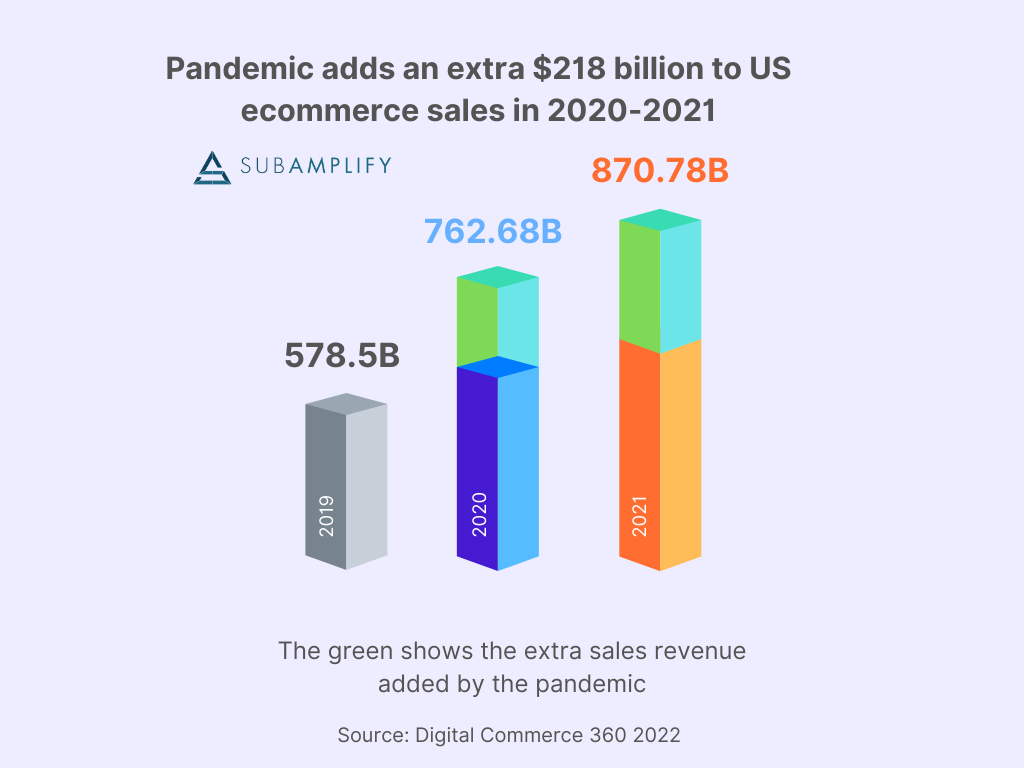 People were staying home during lockdowns and many were also working from home. It was much easier and safer to simply order a product online and get it delivered.
As a result, subscription boxes became extremely popular. They became one of the most popular ways to get items delivered directly to your door.
You could get your weekly food supply delivered to your door, beauty products delivered to your door, games, and puzzles delivered to your door. And for our subscription box, we found a massive increase in subscribers as our box focuses on a hobby - crocheting.
People were getting bored staying indoors!
Here's a snapshot of our subscription box doing the pandemic:

You can see the dotted vertical line - that's when the pandemic hit and how our sales increased since then (without spending any more on paid advertising).
The subscription box market is expected to reach US$65 billion by 2027.
But why would someone want to start their own subscription box business?
Here are some of the reasons why we love the subscription box business model:
Predictable revenue
The first thing to realize is that not all revenue is created equal. The more predictable a dollar is coming into your business regularly the more valuable it is to your business.
This is why I always recommend that every single ecommerce store must have a subscription product as the core of their business.
Starting a subscription box company is a great way of achieving that.
Subscriptions have become the new norm
Many companies around the world have switched from a pay-once model to a subscription model offering products like a subscription box.
A few years ago, you could pay a one-time fee to download and install Microsoft Office to your computer and a one-time fee to download and install Adobe Photoshop. But these big companies realized that they generate predictable revenue for their businesses by offering a subscription model.
Subscriptions have now become mainstream. There's Disney Plus, Netflix, Apple+, Amazon Subscribe and Save, and Amazon Prime - subscriptions are the new norm.
This is why now is the perfect time to start a subscription box business.

Know that cash is always coming in
Subscriptions give predictable income since ecommerce businesses are usually cashflow poor due to having to spend money loading up on inventory, advertising, and overhead costs.
The subscription box model means that every month you're always going to have cash coming into your business! Imagine having peace of mind that on the 1st of every month, your subscribers will have their subscription charged again and you will get instant cash flow. You could then forecast paid ad spending if you were running Facebook ads, Google ads, or TikTok ads.
You don't have to start with $0 in revenue each month. And this is personally why I love subscriptions, having run multiple different types of businesses before our subscription box.
For example, let's say we have two businesses - Business A which just sells one-time products and NO subscription box and Business B sells one-time products and a subscription box. Business A makes $20k in month 1 with just one-time products and no subscription box product, then at the start of month 2, they are back to $0. Business B makes $20k in month 1 but 50% of their revenue comes from a subscription box product, then at the start of month 2, they have a GUARANTEED $10k in revenue. They don't have to start from $0 and have a baseline income.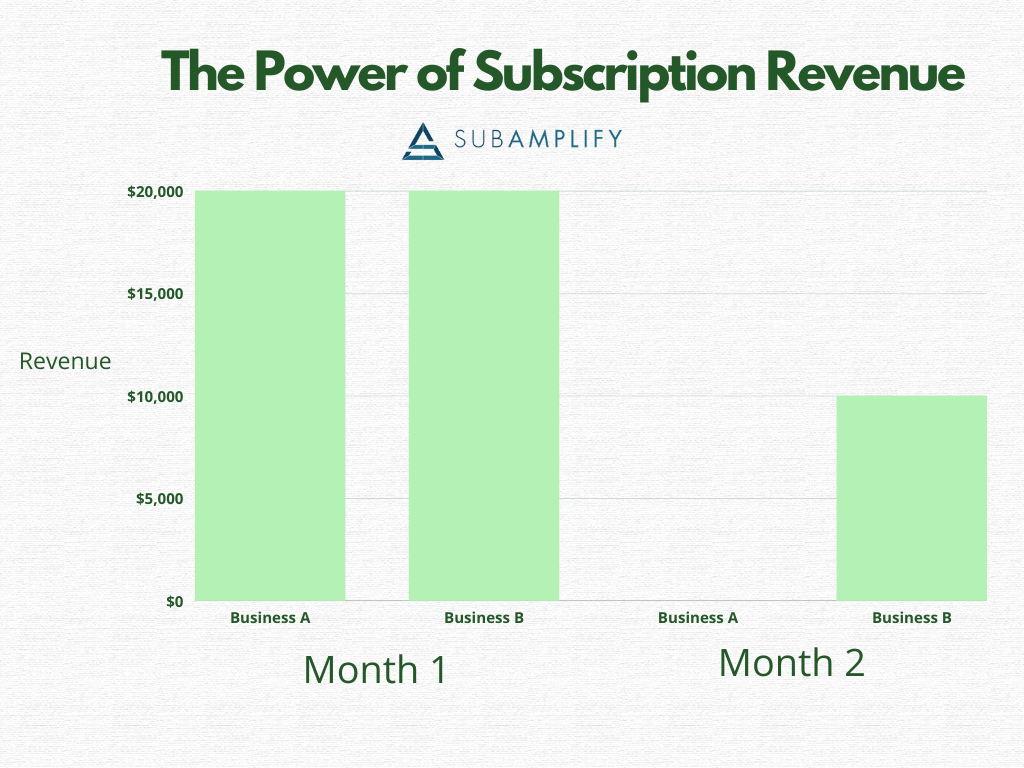 Compound growth
Subscription boxes will also create compound growth in your business. Every new member you bring into your subscription increases the monthly total of your recurring income. For example, let's say you have 10 people paying you $30 per month for your subscription box, this equates to $300 per month in recurring revenue. Now let's say in month 2, 30 new customers join your subscription box, you now have 40 people paying you $30 per month which equates to $1200 per month.
Recurring income from your subscription box also generates more money out of the same customers, instead of forcing you to rely solely on new customers.
Having a subscription product like a subscription box gives businesses the ability to become more recession-proof.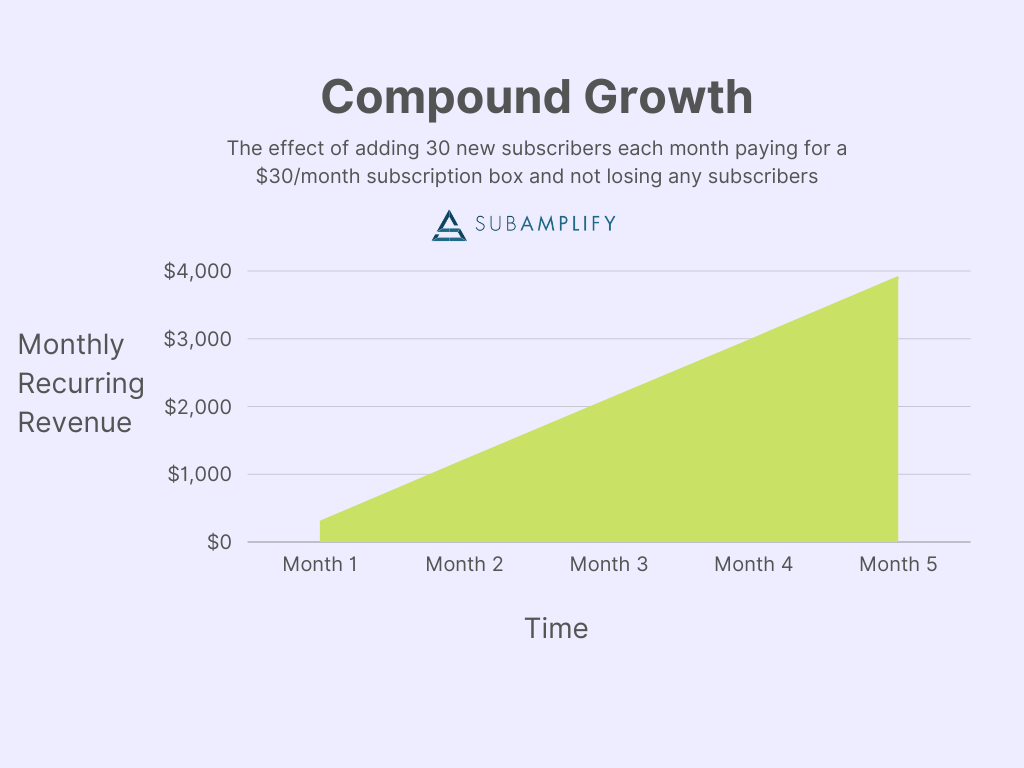 Spend less to acquire customers
Ecommerce businesses that sell one-time products where the customer only pays you once for that product, have to keep investing more money in marketing and sales to get more customers and to keep their businesses going.
They work on the model no customers = no revenue. And this is why many businesses fail within the first 2 years.
But when you have a subscription box, you don't always have to acquire new customers each month to keep your business going. This is because your customers make payments to you regularly.
Your business can still run in times of personal struggle
To give you an example, there have been many months where we haven't actively spent money and worked on acquiring new customers for our own subscription box business, Crochet Surprise. You might be asking why. My wife and I have had personal situations come up like having a new baby, health issues and other family commitments. And this is where having a subscription box is great.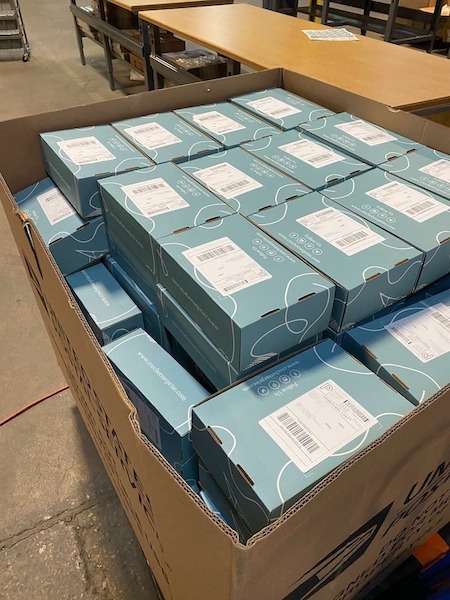 You can still keep the business going even when you may have to take time out to focus on other commitments. All because you have the recurring revenue model dialed in. And this is why we love subscription boxes and have created our own subscription ecommerce platform Subamplify.
Create a loyal community
When you create a subscription box, especially around a passion like crocheting, you create a phenomenally loyal community.
When we first launched Crochet Surprise back in October 2016, we still have about 40% of our subscriber base that have been with us for at least 3 years! I just sit back and think wow - that's loyal! At the time of writing, we still have our very first subscriber Robin with us today!
We were blown away when someone posted this in our members-only Facebook group for our subscription box.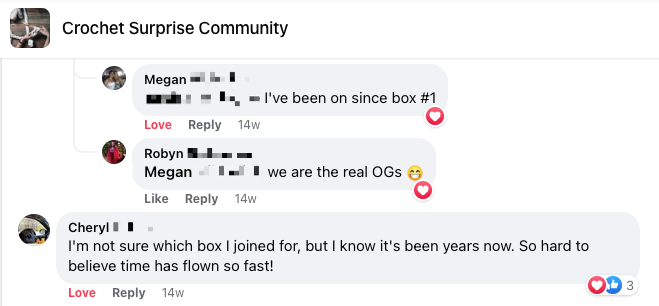 That's because everyone in your subscription box community shares the same passion or interest. This is why (as we'll discover later) it's important to find an interest or passion area for your subscription box.
We've also found when you create a loyal community from your subscription box, your customers will also become your brand advocates. They will spread your subscription box through word of mouth, they will buy your subscription box as a gift to family and friends and they will buy anything else you have to offer.
Imagine a brand that you love. For example, I have an Apple iPhone. I love the brand and also have a MacBook Pro and an iPad. I would never consider buying anything else as I'm loyal to the brand. This is what your subscription box can become to your customers if done right.
Makes selling other products much easier
There are 3 ways for an ecommerce store to increase revenue:
1. Acquire new customers
2. Increase the amount a customer a spends with you
3. Increase the frequency a customer purchases from you
Subscription boxes take care of all 3 points above, especially points 2 and 3.
The fact that a customer will purchase from you again shows that the person is likely to be a repeat customer.
Studies show that repeat customers have a 60% to 70% chance of purchasing from you again.
Adobe conducted a similar study which had them looking at exactly how conversion rates work for repeat customers.
Their findings revealed that repeat customers were 9 times more likely to convert than a first-time shopper.
With a subscription box, it becomes much easier to sell other products to your subscribers. And this is what we highly recommend to create a wildly profitable subscription box business.
Make your business worth 10 times more in value
Having a subscription component to a business increases the value of that business to a potential buyer by 10 fold. This is super important to remember because when you start your subscription box business, you have to think about the exit strategy.
You might have heard of the Dollar Shave Club, a subscription ecommerce business founded by Mark Levine and Michael Dublin in 2011. The company sells razors and other toiletries through a monthly subscription worldwide. Dollar Shave Club has seen tremendous success with its business model, growing to more than $200 million in revenue annually since its founding.
In 2016, the company was purchased for a billion dollars by Unilever, one of the world's largest manufacturers and marketers of consumer products.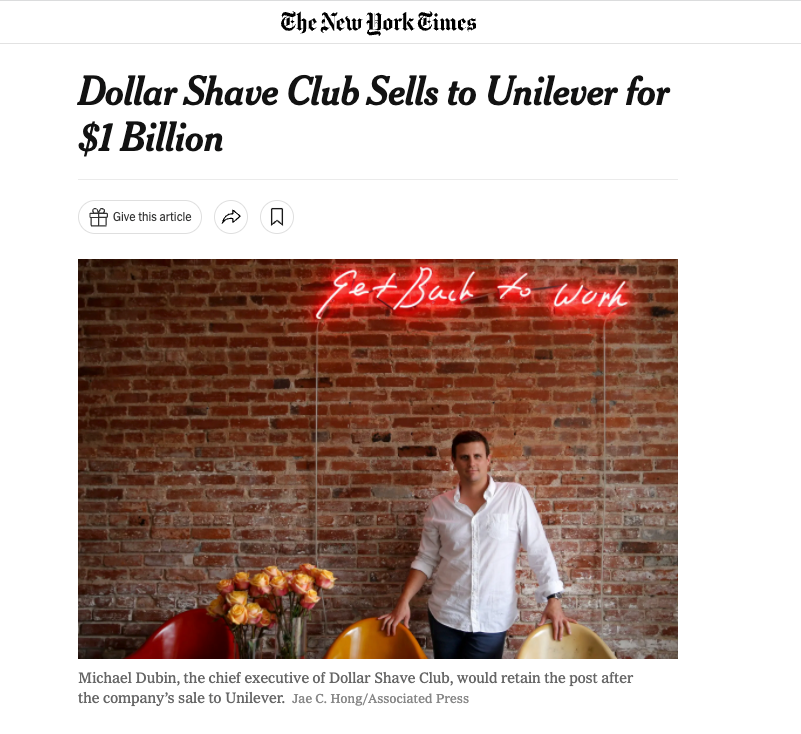 Examples of Very Successful Subscription Box Businesses
To give you an idea of what's possible and where you can take your subscription box, here are some more examples of subscription box businesses that have seen incredible success.
1. Birchbox - the original subscription box that kick-started the entire industry. Birchbox was started by Katia Beauchamp and Hayley Barna in 2010 as an online service that delivers beauty samples directly to the customer's door every month. It was sold to FemTec Health in 2021 for $45 million.
2. BarkBox - BarkBox was started by Carly Strife, Matt Meeker and Henrik Werdelin in 2011. The idea behind the business model is to send monthly surprise packages of dog products, toys and treats for their dogs. The company has seen tremendous growth since its founding with a current valuation of $1.6 billion and is listed on the New York Stock Exchange.
3. Dollar Shave Club - Founded by Mark Levine and Michael Dublin in 2011, Dollar Shave Club is an online shaving club that sends razors and other toiletries through a monthly subscription worldwide. Since its founding, they have grown to more than $200 million in revenue annually and were sold to Unilever for 1 billion dollars.
4. Sock Fancy - Started in 2013 by two lifelong friends Stefan Lewinger and Futhum Tewolde. These two friends were tired of settling for poorly made socks from big departmental stores or paying a hefty price tag for a decent pair from smaller specialty shops. They now turn over 2 million annually.
5. Hunt A Killer - Founded by childhood friends Ryan Hogan and Derrick Smith in 2016, Hunt A Killer offers a monthly box of mysteries and clues for subscribers to solve intricate, entertaining and fictional murder mysteries. They turned over $50 million in 2020!
6. Stitch Fix - Started in 2011 by Katrina Lake, Stitch Fix offers an online personal styling service that delivers clothing items personalized to a customer based on size, budget and style. In 2018, Stitch Fix generated more than $1 billion in sales (they reached this milestone within just 10 years of being founded) and as of 2020, they reported having 3.4 million customers.
7. Harry's - Founded in 2012 by Andy Katz-Mayfield and Jeff Raider, Harry's is another online shaving club that sends razors and other men's care products through a monthly subscription. As of 2020, they reported a turnover of $370 million.
The above list of subscription boxes are just a few examples of highly successful subscription businesses - so anything is possible!!
So without further ado, here are 9 steps that will show you how to start a subscription box. This is based on what we've learned from creating our 7-figure in revenue subscription box and all the lessons learned and mistakes made. You get to shortcut the process!
Step 1: Choosing the Subscription Box Model
Before you begin creating your subscription box service, the key to creating a successful one comes purely down to your preparation and planning.
We know the hard work that's required to create a successful subscription box (having created a 7-figure in revenue subscription box ourselves). And the worse thing is putting in all that effort to find you've chosen the wrong subscription box model or the wrong niche.
So let's go through the 3 main types of subscription box models.
These 3 main types of subscription box models are replenishment, theme and VIP Club.
Replenishment model
With a replenishment model, each month you receive products that you regularly use like razors, baby products, personal hygiene products such as toothpaste and soap, vitamins, and pet food.
These products are also commodity and convenience items.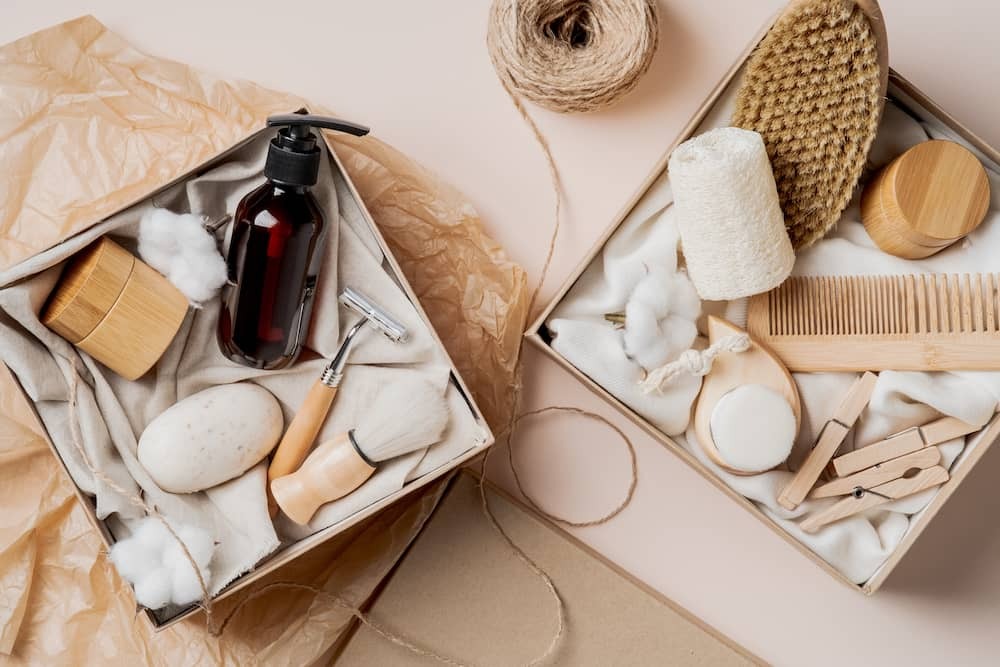 This type of subscription box is similar to Amazon Subscribe and Save where customers sign up to have their convenience items automatically sent to them.
Pros:
1. Higher conversion rates - this type of subscription business model usually converts subscribers higher, purely because customers need the products versus buying a non-essential luxury typed product (which will cover in the themed model below).
2. Higher retention rates - since customers need the products, they also stay longer. Statistics show that almost half of members who subscribe to a replenishment subscription box often stay for at least a year!
Cons:
1. Wafer-thin margins - since the barrier to entry is quite low as anyone can source a similar product, profit margins are extremely thin. Often, it becomes a race to the bottom as you start to compete on price. This is a tough place to be in as an ecommerce business. However, there are strategies to overcome this including creating your own version of these products similar to Hello Bello.
2. Big players already in the market - replenishment items can be a tough business because there are already many big players in the space such as Amazon, Walmart and Target. To stand out, you need to offer something unique such as a lower price, more convenience or excellent customer service.
Theme model
With the theme model, subscription boxes are filled with a mix of different products that are based around a central theme or passion such as Harry Potter, cats or baking. The list is endless since there are millions of different themes and passions. For example, you could create a subscription box around men's fitness, women's fitness, fitness for entrepreneurs, fitness for parents, pilates, yoga, basketball, tennis, running, cross-fit and the list goes on.
This type of subscription box is similar to our box Crochet Surprise where customers sign up to receive a monthly box of yarn, tea and other materials required to make a brand new crochet project.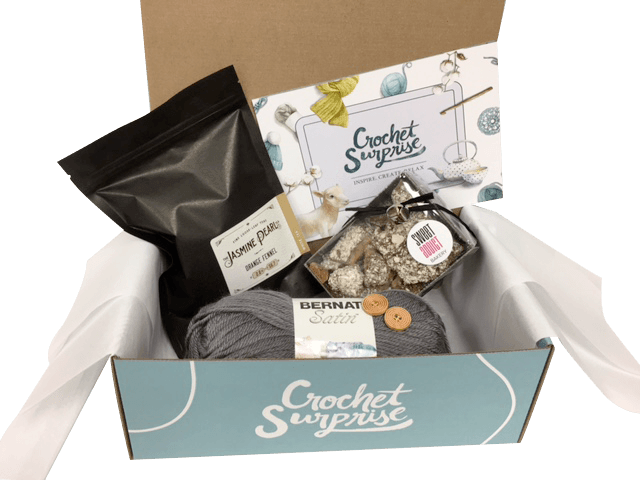 Pros:
1. Higher profit margins than the replenishment model - because it is based around a theme, there tends to have more of a luxury feel to it so customers are often willing to pay more. Moreover, customers can be very passionate about a certain theme such as crocheting and are happy to pay more for their box.
2. Can be less competitive than the replenishment model - there can be far fewer players in the market as it's harder to base products around a theme that resonates with your target audience. This makes it easier for you to stand out and be noticed. And you can niche down much more easily as well, which means fewer competitors and a blue ocean.
Cons:
1. Tougher to get started - it can be tougher and take longer to get this type of subscription box business off the ground as you need to source products that fit your theme each month. There's also more risk involved as you may not always find products that fit your theme perfectly which could disappoint subscribers.
2. Higher churn rate - churn rate is the percentage of customers who cancel their subscription service each month. It is a critical metric to track as it indicates how healthy your subscription business is. A high churn rate means that you are not retaining customers well and are losing them faster than you are acquiring new ones. Since the theme subscription box model is usually filled with products that are considered non-essentials and more luxury, there tends to be a higher churn rate as people unsubscribe when they don't need the products anymore. We found this to be the case with our own business. Our churn rate increased during 2022 when the rate of inflation in the US was close to a 40-year high. A segment of our customers loved our product but had to cancel due to the rising cost of living. Subscription boxes are usually the first item to go during times of high inflation.
VIP Club model
In the VIP Club model, subscribers pay a monthly fee to get member-only discounts and perks. The primary value is offering exclusivity to customers.
The typical monthly price point is usually at a sub $10 price point. In addition to our monthly subscription box, at Crochet Surprise, we also offer a VIP Club membership. This is where you get access to special discounts to our suppliers and for our products also with access to digital content.This type of subscription model can work well if you have a loyal following who is willing to pay for access to exclusive deals and content.
Pros:
1. Higher conversion rate - since the VIP Club model is at a sub $10 price point, it is an easy sell and you'll have higher conversions. This is because people are more likely to sign up for something affordable and within their budget. Additionally, by offering exclusive discounts and deals, you are providing added value that customers cannot find anywhere else.
2. Lower churn rate - this is because the price point is a buy and forget price point. Typically, customers will look at their credit card statements and not be concerned about the price as it doesn't stand out as a big purchase.
Cons:
1. Bigger time investment - you'll need to spend time creating great exclusive content and benefits. You need to make sure it is worthwhile for your customers even at a low price point.
Step 2: Determine Your Exit Strategy
From our personal experience in business, before you start a subscription box you need to think of your exit strategy.
I always recommend that you start a subscription box as if you were going to sell it.
Why do I say this? Because the reality of the situation is that somewhere down the line, you may feel that it's time to move on or you simply want to reap more of a financial reward for all your time and effort. Or you may want to keep doing it forever and there's nothing wrong with that either. Each to their own.
But when you have the exit strategy in your mind, you operate and set up your subscription box very differently.
Let me give you an example.
If you were to buy a business, what would be some of the things that would make you attracted to that business. Here's a list of things that would entice me:
1. Is the owner the linchpin of the business? That is, can the business run without the owner?
2. Are there standard operating procedures (SOPs) put in place where if we needed to bring more staff in, we can because they could simply follow those SOPs?
3. Is the fulfillment of boxes done in-house or does a 3rd Party Logistics (3PL) fulfillment company handle it?
4. Does someone handle customer service or is the owner doing the customer service as well?
Now that you have your exit strategy in mind, you can prepare for it right from the beginning when you start your subscription box.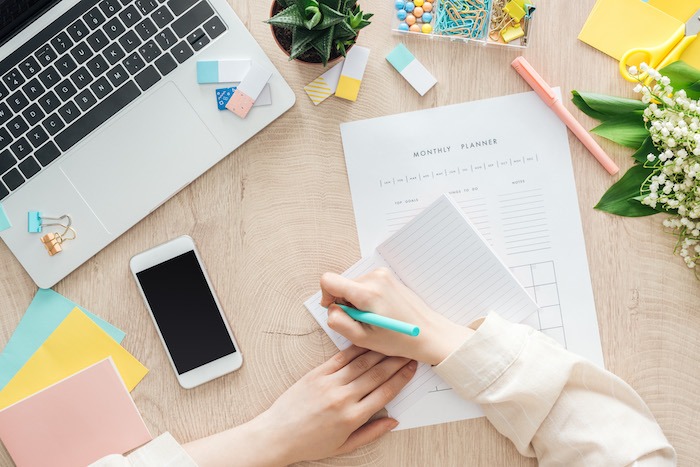 If you're going to sell your subscription box business then you need to make sure you document the steps involved in creating your box, shipping it out and handling customer service.
You also need to make sure you register the company legally.
Step 3: Work Out Your Subscription Box Idea
Now that you've worked out the subscription box model to use, it's time to work out your subscription box idea!
Determine your passion
One of the best ways to do that is to choose a topic or passion that you're truly passionate about. This will make the process of setting up and running the business much more enjoyable, and it will show in the quality of your products and content.
It also helps massively if you have good knowledge in that area. For example, for our subscription box Crochet Surprise, we focus on crochet because we love to crochet and want to share that passion with others.
We include high-quality yarns, needles, hooks, and other accessories in our boxes, as well as patterns and instructional materials to make a brand new crochet project.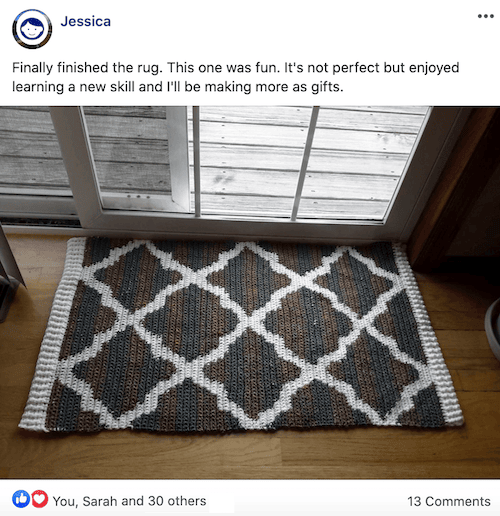 The key to it though is my wife Sarah. She crochets well and can come up with ideas for projects. If she didn't have that domain knowledge, then the box would fail.
Likewise, if we didn't have a passion for crocheting, we wouldn't have survived longer than 2 years.
So here's a great framework to work out your passion and knowledge area that you can center your subscription box around:
1. What niches are you knowledgeable in? e.g. cooking, tennis, crocheting
2. Of these, what niche are you the most passionate about? e.g. cooking
Is it a red or blue ocean?
Here's a quick business lesson on what is a red ocean and a blue ocean when it comes to your subscription business idea.
Red ocean
A red ocean is where there are a lot of competitors existing already so it will be much harder to differentiate your subscription business and stand out. For example, if your subscription box focuses on beauty products, then you're entering a red ocean with lots and lots of competitors.
To prove this point, go to Google and search for "beauty subscription boxes". When I do it, Google shows the following results. Notice the number of ads at the top and on the left-hand side - that means there are lots of companies paying for their beauty subscription box to be displayed at the top of Google!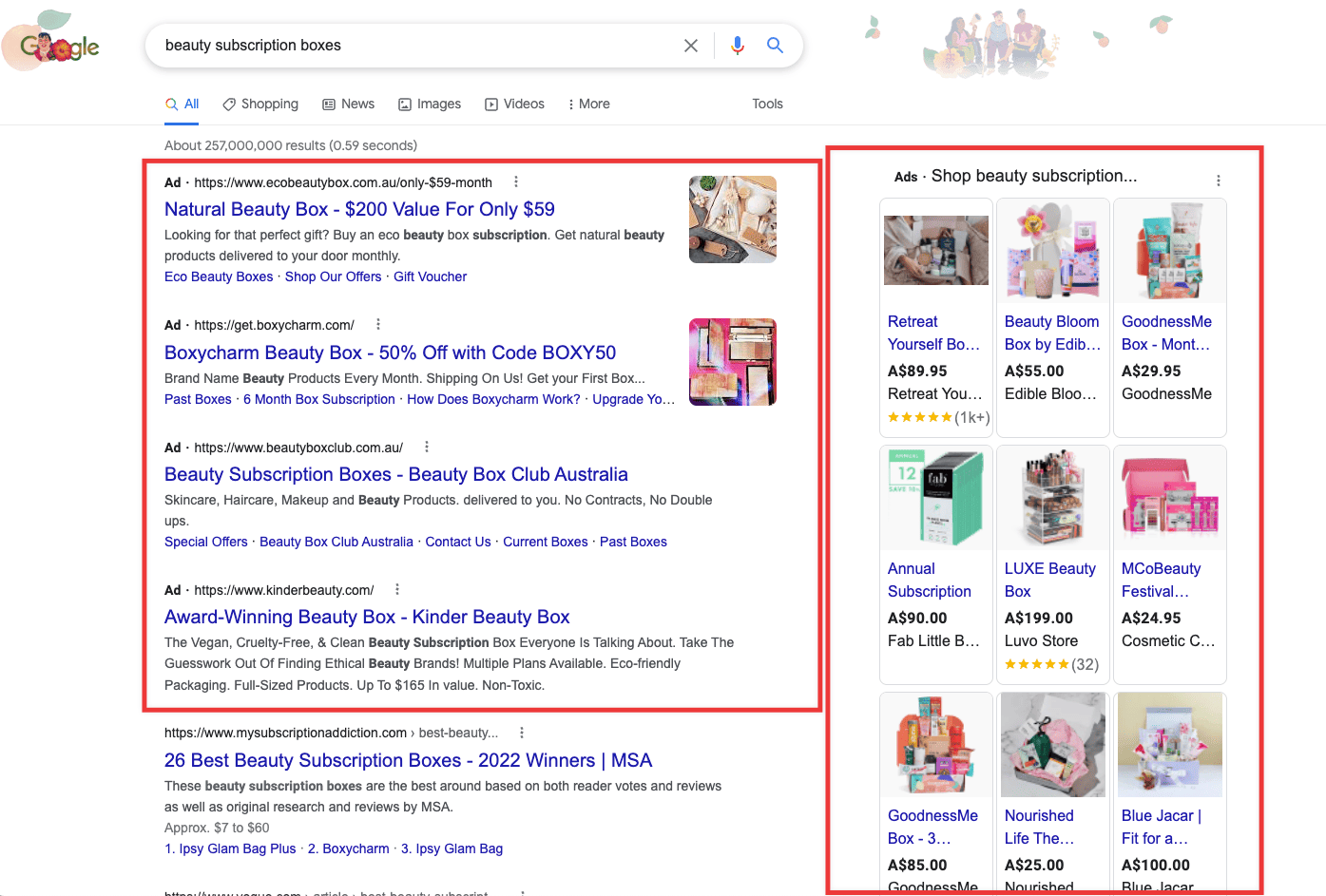 Blue ocean
A blue ocean, on the other hand, is where there is much less competition so you don't have to fight other companies for eyeballs and potential customers.
Note that if you're the very first to create a subscription box in a certain niche, you may need to educate the market about it. Also, the size of your target subscription market may not be big enough. For example, let's say you want to start a subscription box for astronauts. The target market for this will be very small as there are not many astronauts in the world. I could be wrong of course!
So what happens if I have a red ocean idea?
If you have a red ocean idea like a beauty box or a cooking box, then you can create a blue ocean from it by sub-niching. For example, let's take the idea of creating a beauty box. You could create a beauty box for entrepreneurs, a beauty box for mothers only, a beauty box that contains vegan products only and so on.
In the example of cooking, there are endless sub-niches here too. You could create a cooking subscription box that focuses on Asian cooking, plant-based cooking, baking, cooking meals in 30 minutes or less, African cooking, Australian cooking and the list goes on!
Step 4: Define Your Ideal Customer Profile
Now that you've come up with your subscription box idea, the next step on how to start a subscription box is to work out your ideal customer profile.
A customer profile is a description of your ideal customer. This is someone who is most likely to be interested in your subscription box and the products and services you offer.
When creating your customer profile, it's important to be as specific as possible. This will help you tailor your marketing and sales messages specifically to that customer.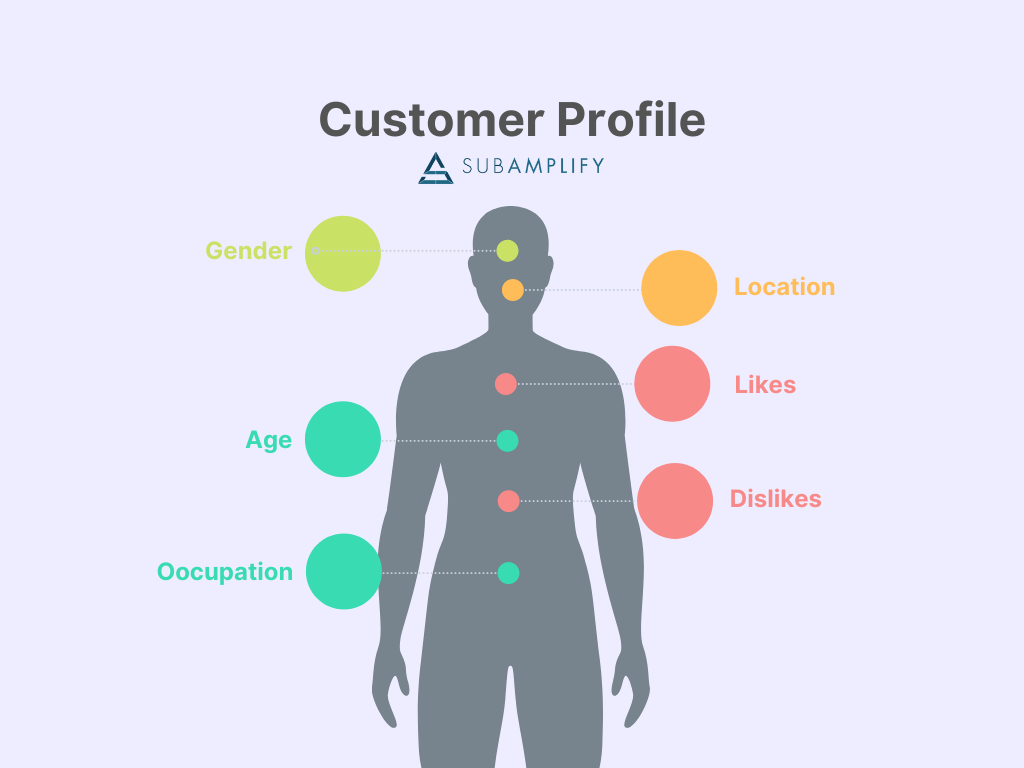 For our subscription box Crochet Surprise, our ideal customer is someone who loves crochet, has some experience with crochet, and is looking for a new challenge with crochet projects. Typically, our ideal customer is also predominantly female and usually 50 years in age and older.
You will then use your subscription box idea in conjunction with your ideal customer profile to next validate your subscription box.
Step 5: Validate Your Subscription Box Idea
This is one of the biggest lessons I've learned during my entrepreneurial journey.
When it comes to learning how to start a subscription box, it's important to validate your idea first. This means proving that there is a demand for your subscription box and that people are willing to pay for it.
Imagine spending hours and hours creating your subscription box ideas and then launching, and then getting 0 subscribers. Not a great feeling at all.
There are a few ways you can do this:
Survey your target market
This can be done by creating a simple online survey or even by conducting interviews over Zoom with potential subscribers.
Use social media platforms
Try using Facebook ads or even Twitter polls to get an idea of whether people would be interested in your subscription box. Or visit Facebook groups that include your target market and talk about your idea.
Do some research
See if there are any existing subscription businesses in your niche and see what the competition looks like. You can also look at Google Ads to see how many people are searching for keywords related to your subscription box.
The subscription box industry has been thriving over the last couple of years so there should be some great examples for you to research and look at.
Here's what we recommend:
Set up a pre-launch landing page
It's a simple page that has your subscription box name, your concept or idea and a couple of paragraphs about the benefits customers will get from your box.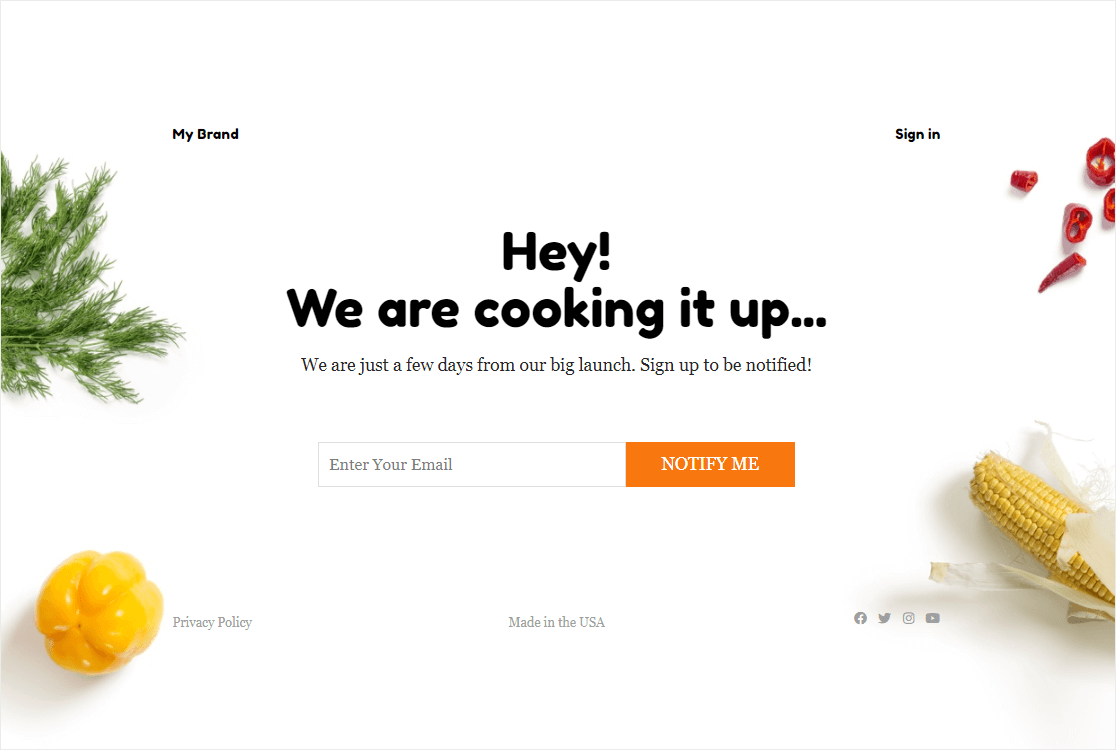 Set up an account with an email marketing platform
There are many email marketing programs out there like Drip, Active Campaign, Mailchimp or Klaviyo. You'll be spoilt for choice!
Create a call to action (CTA)
Add a call to action (CTA) button on your landing page that asks your target customers to give their email addresses in exchange to get a notification when you first launch along with a sweet discount as an incentive. Their email address is then sent to the email marketing program set up in Step 2 above.
Get as many eyeballs on it as possible
Now drive traffic to this landing page by using Facebook ads or other marketing channels. You can budget about $100-$200 for this which will give you enough data to validate your idea and also give you a list of pre-launch subscribers! If you can get 50 people to give their email addresses, you should be moving ahead with your new subscription business.
This is powerful as we will see in the next few sections as you will launch to a list of pre-qualified, potential customers who can kick start your subscription box!
Step 6: Develop Your Box and Offering
Now that you've validated your subscription box idea, it's time to get creative and start developing your box and offers. This is the fun part where you get to work out what will go into your box and what the customer experience and customer satisfaction will look like.
These are the points to consider when developing your subscription box ideas:
Contents of your subscription box
Your subscription box should be curated to deliver an amazing experience to your customers every month. The contents of your box should be a surprise to your customers, but also relevant to their interests.
Think about what items would complement each other and work well together. For our Crochet Surprise boxes, we wanted to touch four of the five senses - smell, sight, touch and taste.
We wanted the unboxing experience to make you feel like you were receiving a Christmas present in the mail every month. We love getting reviews like below.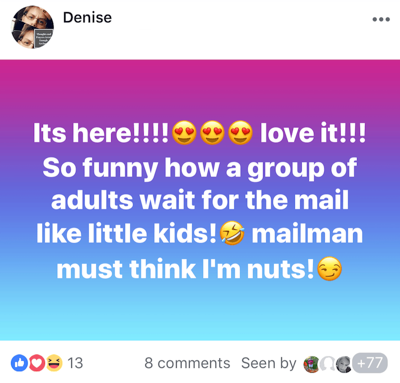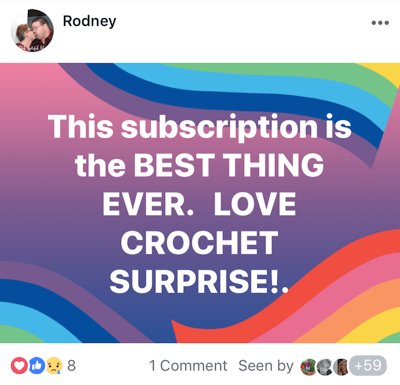 For example, the contents of our box are covered in tissue paper held together with a branded sticker. So when you first open the box, you get the feeling of opening wrapping paper (touch). Then when you open it, you see an amazing array of products (sight). We also include a nice premium tea that you can't order from your local shop. This gives our customers something to taste and smell while they make their crochet projects.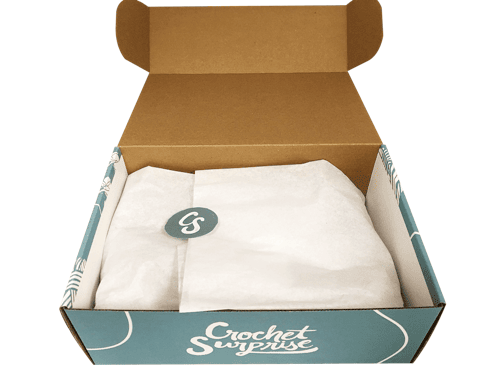 You want your customers to feel excited when they open their boxes every month, so consider adding some extra special touches like handwritten notes or fun packaging.
Creating a subscription box is a lot of fun, so take your time developing yours and make sure it's something you're proud of! You want it to be something that your customers will love, so put a lot of thought into the contents and the customer experience.
Types of products in your box
When you're putting together the contents of your subscription box, you need to think about the types of products you're including. If you're including food items, you need to make sure they won't leak during transit.
Also imagine if you have leftover boxes each month, you will have an expiry date as to when those boxes can be sold by due to the food items.
Pricing
When pricing your subscription box, you'll need to consider the cost of the items inside, shipping costs, and any other associated costs. You'll also need to think about what price point will be most attractive to your target market.
If your subscription box is aimed at a high-end market, then you'll need to price it accordingly. However, if you're targeting a more budget-conscious market, then you'll need to be mindful of how much you're charging.
It's important to also take into account two factors when working out your pricing:
Reward your time and effort
You need to have enough profit margin to make sure you get rewarded for your time and effort. Making only $5 net profit per box isn't worth it in my opinion. You'll find it hard to keep going because there just isn't enough profit. Making $20 per box will give you more reward for your efforts.
Paid ad costs
If you decide to run paid ads like Facebook ads, Google Performance Max ads or TikTok ads, it's going to cost you a certain amount to acquire a customer. So if your profit margin per box is $10 and a customer stays on average for 3 months, then your net profit over the lifetime of a subscriber will be $30.
But if you acquire a customer via a Facebook ad for $30, then you're not making any money. Keep this in mind when coming up with a price for your box and when you work out your marketing budget!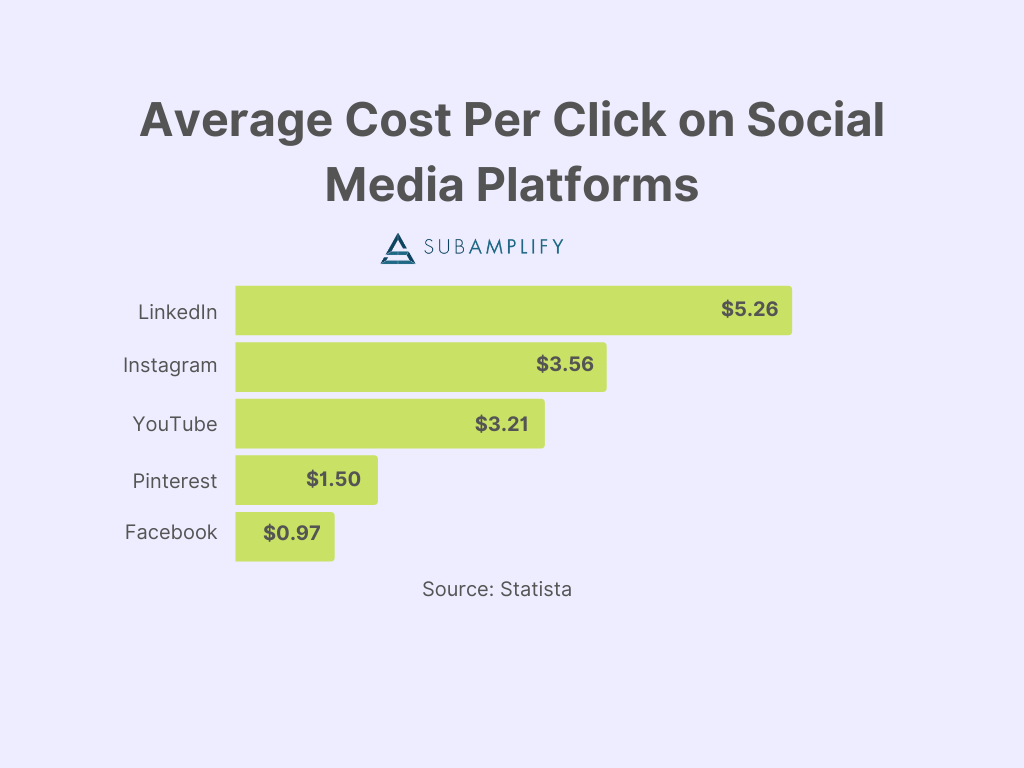 Shipping
Due to Amazon Prime, many customers now expect free shipping on subscription boxes. This can be a challenge for subscription box businesses, as shipping can be expensive. However, there are ways to overcome this challenge.
One way to overcome the challenge of high shipping costs is to offer free shipping on a customer's first box.
At Crochet Surprise, this is exactly what we have done by setting it up on the website platform we use, Subamplify.
Another way is to simply increase the price of your box so you can cover free shipping.
Ultimately, it's important to find a way to balance the cost of shipping with the value of your subscription box. If you can do this, then you'll be able to offer your customers an amazing subscription box experience that is also affordable.
Here's a tip if you are based in the US and ship within the US, if you can keep the weight of your box to be under a pound, the shipping of your box gets reduced dramatically especially if you ship via USPS.
Step 7: Finding Suppliers and Sourcing Products
There are a few ways to find suppliers for your subscription box.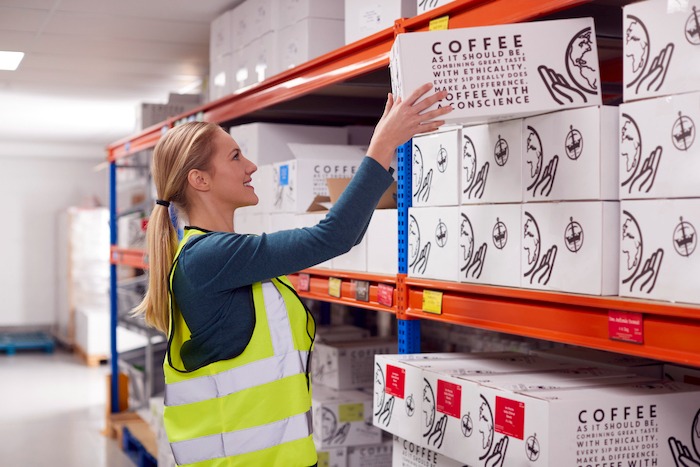 In order of preference, this is how we would approach it:
Google search
When we first started Crochet Surprise, this is exactly what we did. By doing a simple Google search for products related to your niche, you'll find websites of manufacturers.
You can check out the products on their website and often they will have a contact page. Send them a message and mention what you're doing, if they do wholesale prices and give them an incentive by mentioning how you are planning to have thousands of subscribers!
Amazon
We have used Amazon a few times when creating our Crochet Surprise subscription boxes. You can find some great products that your customers will love, but just be conscious you need to give them lead time if you need to make a huge order.
Also, I remember one time our 3PL company found some of our stock damaged so we couldn't finish packing all our boxes for that month. Do you know what saved us? Amazon Prime! It still blows my mind you can order something with your Amazon Prime account and it can be delivered within 2 hours.
So we ended up finding other items to ship across to our 3PL company and I remember talking to them on the phone "hang tight, we've got some product coming over to you. It will be there in 2 hours!"
Etsy
This is a great marketplace with lots and lots of creators that make amazing things you can put in your box, that you won't find anywhere else. High recommend it!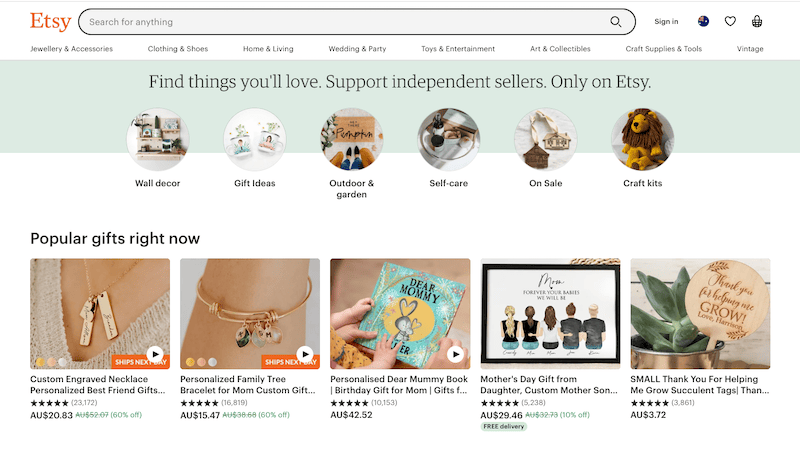 Trade shows and expos
Another way is to attend trade shows and expos where you can meet suppliers in person and talk to them directly.
Building supplier relationships is crucial for your business
From our experience, we've found that building supplier relationships are crucial for a successful subscription box business. Having a good relationship with your suppliers can help you get the best quality products for your box, at the best prices. It can also help you to get your products promptly, so you can get your boxes shipped out to your customers on time.
For example, there have many times when we've had to order more stock from suppliers at short notice and because our relationship with them has been strong, they've moved heaven and earth to make it happen for us.
Likewise, we've also had situations where a supplier doesn't have enough stock of a particular product, but they've gone over and beyond to try and find a similar product for us.
Questions to ask a new supplier
When you are building a relationship with a new supplier, here are some questions that need to ask them:
1. Share with them your subscription box idea and how big you want to grow it
2. Ask if they send sample products to you
3. Ask if they give wholesale pricing
4. Find out their minimum order quantity (MOQ)
5. Ask if they can handle large orders
6. Ask how long is the lead time to place an order and get it delivered
Step 8: Setting Up Your Website on Subamplify
Our subscription box Crochet Surprise runs on Subamplify, a powerful subscription-focused ecommerce platform. It's the subscription box platform we highly recommend creating your subscription box website on, and we are a little biased though. Especially since we created it 🙂
Why we built Subamplify
But here's the back story. Crochet Surprise was first launched on another ecommerce platform, where subscriptions were an after-thought. That means subscriptions weren't built into the ecommerce platform right from the very start. Another company had to create a separate software plugin that worked with this ecommerce platform for us to create our subscription box product.
So we built Subamplify for us initially, but now we want others to succeed in their own subscription business. Here's a snapshot of why how much the platform has helped grow our subscription box. MRR is the monthly recurring revenue.

However, on Subamplify, subscriptions are the primary focus and were built in from the very start. So everything has been built to work seamlessly together. This means that you don't need any plugins, and your subscription box will work perfectly. Plus, since Subamplify is subscription-focused, you'll get all the features and functionality you need to start a subscription box.
Everything you need all in one place
Everything we've learned from running Crochet Surprise and turning it into a 7-figure in revenue business, we've put into Subamplify.
Everything is out of the box, so you get everything to start a subscription box and to grow it into a 7-figure business.
Features
Here are some of the features we've built to grow a loyal customer base:
Automated re-billing
Once a new subscriber joins your subscription box, their subscription payments are automatically handled by Subamplify. They will be charged at the right time and if a payment fails, Subamplify automatically follows them up by email.
This is the most important part, you want to make sure the subscription payment side is handled perfectly. Unfortunately, we've heard horror stories where a plugin has accidentally canceled the customer subscriptions of an existing business.
Reduce customer service
One of the biggest things we learned from our subscription box is that customer service can eat up your time. So we've put in a lot of features in Subamplify to reduce customer service time and to empower your subscribers!
Subamplify comes with an in-built members area for subscribers to manage their subscriptions. They can cancel their subscription, pause it, unpause it, update their delivery details, billing details and much more!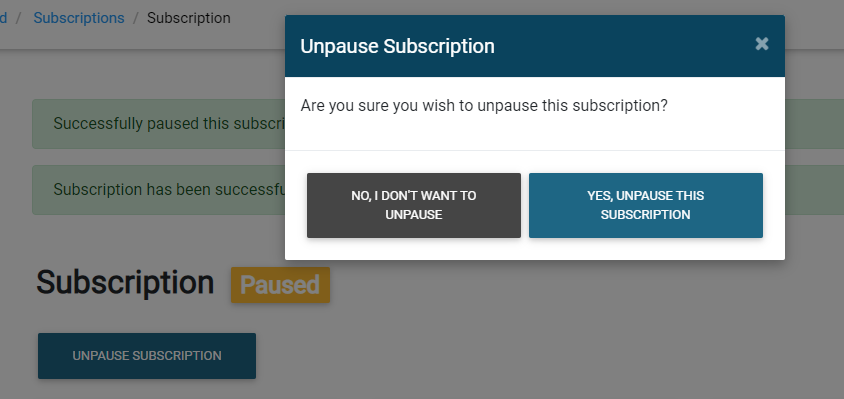 Website builder
We also wanted a drag and drop editor so that we didn't need to always have to contact a website developer every time we needed to make a change to our website. So we put this into Subamplify.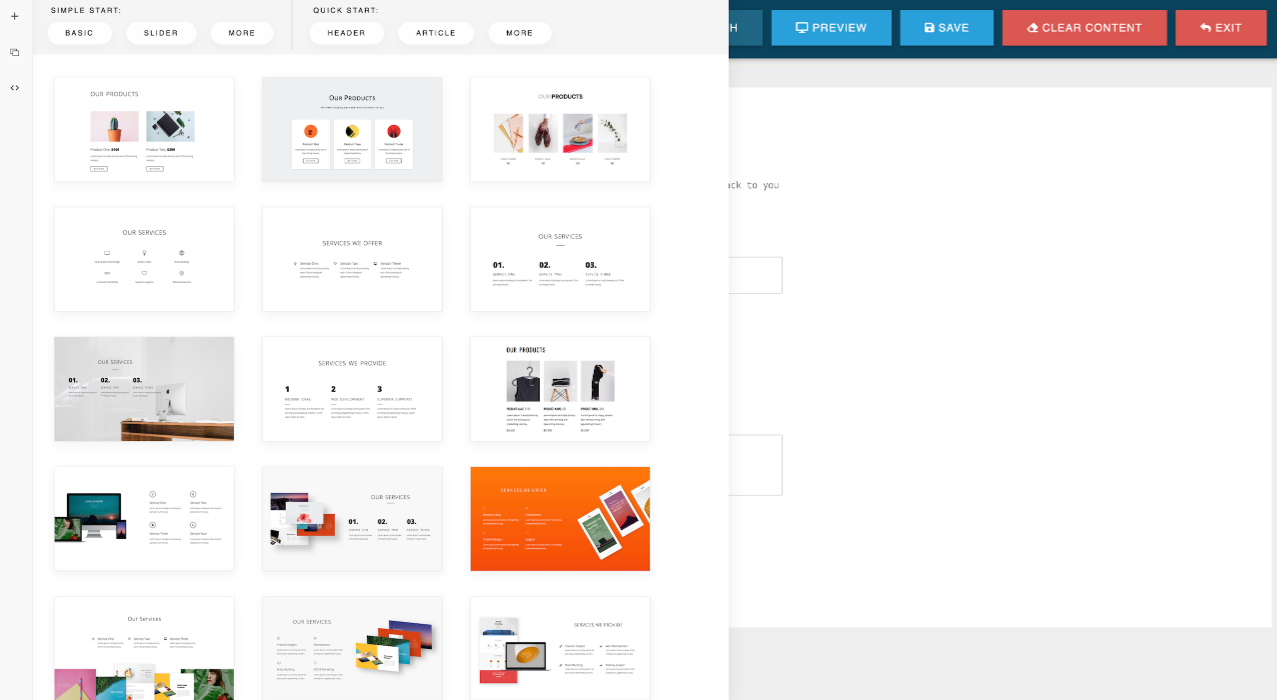 Sell one-time and digital products as well
Another key feature is having the ability to sell both one-time products and digital products as well. As you expand your new business, you'll want to add new products that can increase your customer lifetime value and customer retention.
Increase the customer lifetime value
Subamplify also has in-built features that allow you to upsell customers who purchase your box with other products that add value to them. This increases your customer lifetime value, reduces your customer acquisition costs and makes your customers happy.
To learn more, click here for a 14-day free trial and once you've signed up, you'll be guided step by step to get your website up and running in minutes.
Step 9: Launching Your Subscription Box
Now the final step on how to start a subscription box is to launch your subscription box!
The key to launching a successful subscription box is not to simply launch it and then try and get subscribers.
You want a waiting list of people ready to subscribe as soon as you launch. That way, you feel great because you already get subscribers and do not launch to crickets!
The Apple experience
Think of Apple and think about what happens when they launch new products (even if it's a new version of an iPhone). Apple sends invites to the press including major tech publications to come to their headquarters in person for the event. Apple also sends out an email to their entire mailing list promoting the event and they also hold the event online (especially with COVID happening).
Here's an email I received from them promoting one of their events.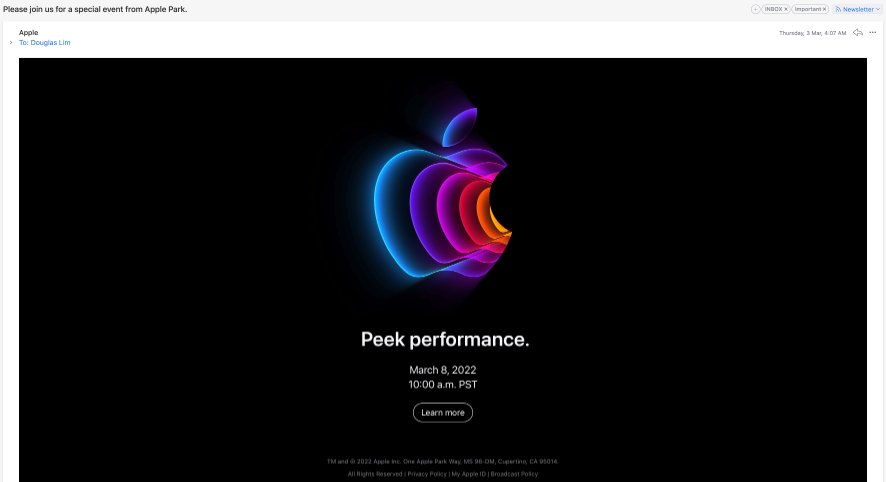 What happens as a result?
People get excited and write blog posts with their take on what Apple will reveal. Engagement in community forums goes up with people talking about the event, Reddit threads get longer, Facebook groups get people chatting about it and the list goes on.
All free publicity for Apple. Then when they drop their new products, they immediately get a massive rush of buyers all because they made it an event and created buzz and excitement.I highly recommend doing the same thing for your subscription box! And here's how to do it.
1. Grab that landing page created above where you collected emails from people interested in your subscription box idea.
2. Promote the heck out of it on every one of your social media channels especially Facebook and TikTok. Share it with your friends and family and get them to promote it on their social media channels as well. You want as many people joining your waitlist as possible!
3. Send a set of emails (1 email per week until your actual live launch date) giving a sneak peek of your box. This can be images of items that will be in your box and the story behind why you created your box. You want to tease them and excite them at the same time!
4. Then on launch, send an email announcing your subscription box is now live along with a discount to entice them to subscribe!
5. Then send another 2 to 3 follow-up emails to continue promoting your subscription box.
Extra tip
Give your first subscribers an added incentive to join by calling them out as your VIP founding members, who will be grandfathered into the current price.
Conclusion
There you have it, a step-by-step process on how to start a subscription box. These are exactly the same steps I would take if we were to create another subscription box, especially in a niche market.